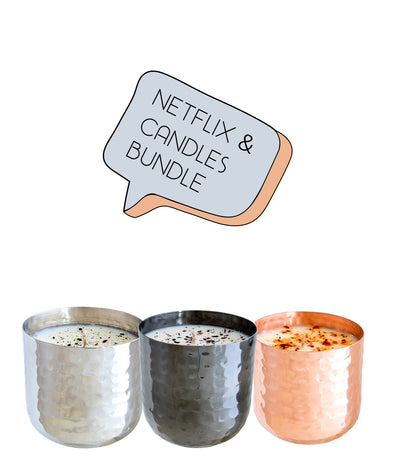 BUNDLE
Netflix & Candles BUNDLE
Your chance to try all 3 candles, and keep the containers for the future! How can you use them? Hmmm... as cocktail cups, as make-up brushes, as pots for plants, as candle holders, as stationary organisers... let your creativity run wild!
PS: these candles are 100% natural, with pure coconut-soy wax (no paraffin!) and scented with natural essential oils. The wick is made out of cotton, and the containers are washable and reusable afterwards. Oh, and beware, they will fill up your house with their smell very quickly.
Includes the following 100% natural & handmade beauties:
Mystery of Burlesque 240ml Natural Coco-Soy Candle

Accidental Five

 240ml Natural Coco-Soy Candle

Dreams of Bangkok

 240ml Natural Coco-Soy Candle
Designed by 2 ladies, for you ❤

Enjoy the cheeky bundle at an incredibly discounted price! 
Much love,
Rokai