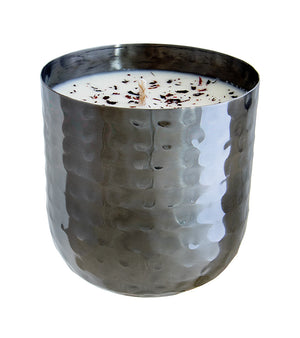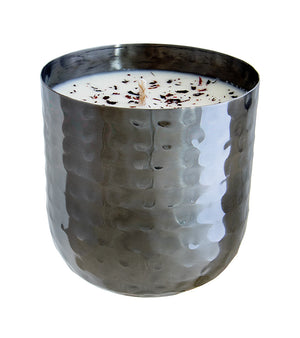 BUNDLE
Accidental Five Candle
Ingredients


CEDARWOOD:  
Extracted from the "forever green" cedar trees, this intense essential oil is well-known for its relaxing properties and soothing mood effects.
PATCHOULI:
Patchouli essential oil is seen to represent a "free spirit" and a hippy state of mind thanks to its musky & earthy-sweet odor.
GERANIUM ROSE: 
Flowery, sweet but with an earthy fragrance, this

 essential oil is best described as balanced. It is used to calm anxiety and other nervous conditions and lift the mood. 
FRANGIPANI:
One of the most special essential oils out there, it is derived from a tropical tree with gorgeous & deeply fragrant flowers and has an important place in aromatherapy due to its scent's rejuvenating qualities on the mind and body.

VANILLA:
Sweet, warm, complex, and comforting, this extract helps with insomnia and restlessness and deeply relaxes the body and mind.



Superpowers
Description
Approximate number of burning hours:
240ml:

 

30 hours
420ml:

 

60 hours
♥
Natural Coconut-Soy wax candle with pure essential oils of Cedarwood, Patchouli, Geranium Rose, Frangipani & Vanilla, sprinkled with organic dried Hibiscus petals throughout the wax.
I am probably the most special candle you have smelled so far, and just like the Powerpuff Girls, I was an accident! The viscosity of my essential oils was being tested out, on a thick carton, and simply yielded a strong, unique scent. My creators were taken by surprise, and further investigated the complexity of the result. One thing led to another, and I was nominated to be the flagship candle of Rokai!
Hopefully going straight to the heart of my new family!
Truly special, 5 scents brought together into a natural coconut-soy wax base. No additives, no artificial fragrances. You can call me… the " Accidental Five".
My superpower: Just like the stars in the sky, I am filled with organic Hibiscus petals, it makes me feel so special!
Let's dream together!

Hashtags: #AccidentalFive #Sweepin'YouOffYourFeet #SweetDreams
Never leave a candle unattended.
Never burn a candle on or near anything that can catch fire.

 

Keep burning candles away from furniture, drapes, bedding, carpets, books, paper, flammable decorations, etc.
Keep candles out of the reach of children and pets.

 

Do not place lighted candles where they can be knocked over by children, pets or anyone else.
Never touch or move

 

a candle while it is burning or while the wax is liquefied.
Place burning candles at least three inches apart from one another. This is to make sure they don't melt one another, or create their own drafts that will cause the candles to burn improperly.
Extinguish a candle if the flame becomes too high or flickers repeatedly. Let the candle cool, trim the wick, and check for unwanted drafts before re-lighting.
Never use a candle as a night light or while you may fall asleep.
Be very careful if using candles during a power outage. Flashlights and other battery-powered lights are safer sources of light during a power failure. Never use a candle during a power outage to look for things in a closet, or when fueling equipment – such as a lantern or kerosene heater.