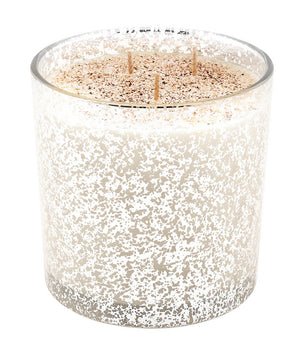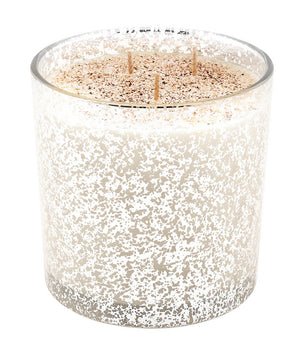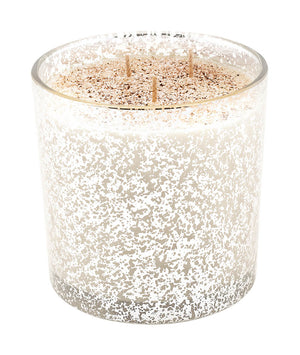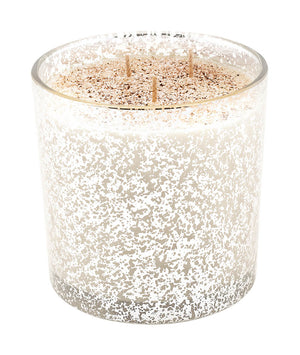 Santa's Disco Ball 3-Wick Natural Candle 800ml
Ingredients


CINNAMON:  
Typical Christmas scent, cinnamon is present all around us, bringing its dusky, sweet and spicy flavour into our mulled wine, into our joyful baked goods and represent an ever-lasting scent associated with this beautiful time of the year.

CEDARWOOD
Extracted from the "forever green" cedar trees, this intense essential oil is well-known for its relaxing properties and soothing mood effects.
SWEET ORANGE: 
Fresh, citrusy and upbeat, the scent of sweet orange harmoniously blends with the other ingredients, yielding the most relaxing and heartwarming festive scent. 
VANILLA:
Sweet, warm, complex, and comforting, this extract helps with insomnia and restlessness and deeply relaxes the body and mind.



Description
Approximate number of burning hours:
♥
Natural Coconut-Soy wax candle with pure essential oils of Cinnamon, Cedarwood, Orange & Vanilla, sprinkled with vanillated sugar, cinnamon and nutmeg powder, as well as some edible silver shimmer.
Christmas is our favorite time of the year, a joyful time to spend with your loved ones, cook good food, decorate your home and exchange gifts with your family and friends. But what is a Christmas home without its typical homey scent? The smell of golden cinnamon buns, the chocolate Christmas advent calendar, the discrete sound of the candle burning, and one scent to fill up your entire home. One candle for the entire Christmas. Of course, a candle made out of 100% natural and premium ingredients. 
Carefully wrapped in the funkiest holographic paper with a big silk red ribbon on it. Because every gift counts, and its ultimate purpose is to bring joy and happiness to its future owner.
Never leave a candle unattended.
Never burn a candle on or near anything that can catch fire.

 

Keep burning candles away from furniture, drapes, bedding, carpets, books, paper, flammable decorations, etc.
Keep candles out of the reach of children and pets.

 

Do not place lighted candles where they can be knocked over by children, pets or anyone else.
Never touch or move

 

a candle while it is burning or while the wax is liquefied.
Place burning candles at least three inches apart from one another. This is to make sure they don't melt one another, or create their own drafts that will cause the candles to burn improperly.
Extinguish a candle if the flame becomes too high or flickers repeatedly. Let the candle cool, trim the wick, and check for unwanted drafts before re-lighting.
Never use a candle as a night light or while you may fall asleep.
Be very careful if using candles during a power outage. Flashlights and other battery-powered lights are safer sources of light during a power failure. Never use a candle during a power outage to look for things in a closet, or when fueling equipment – such as a lantern or kerosene heater.